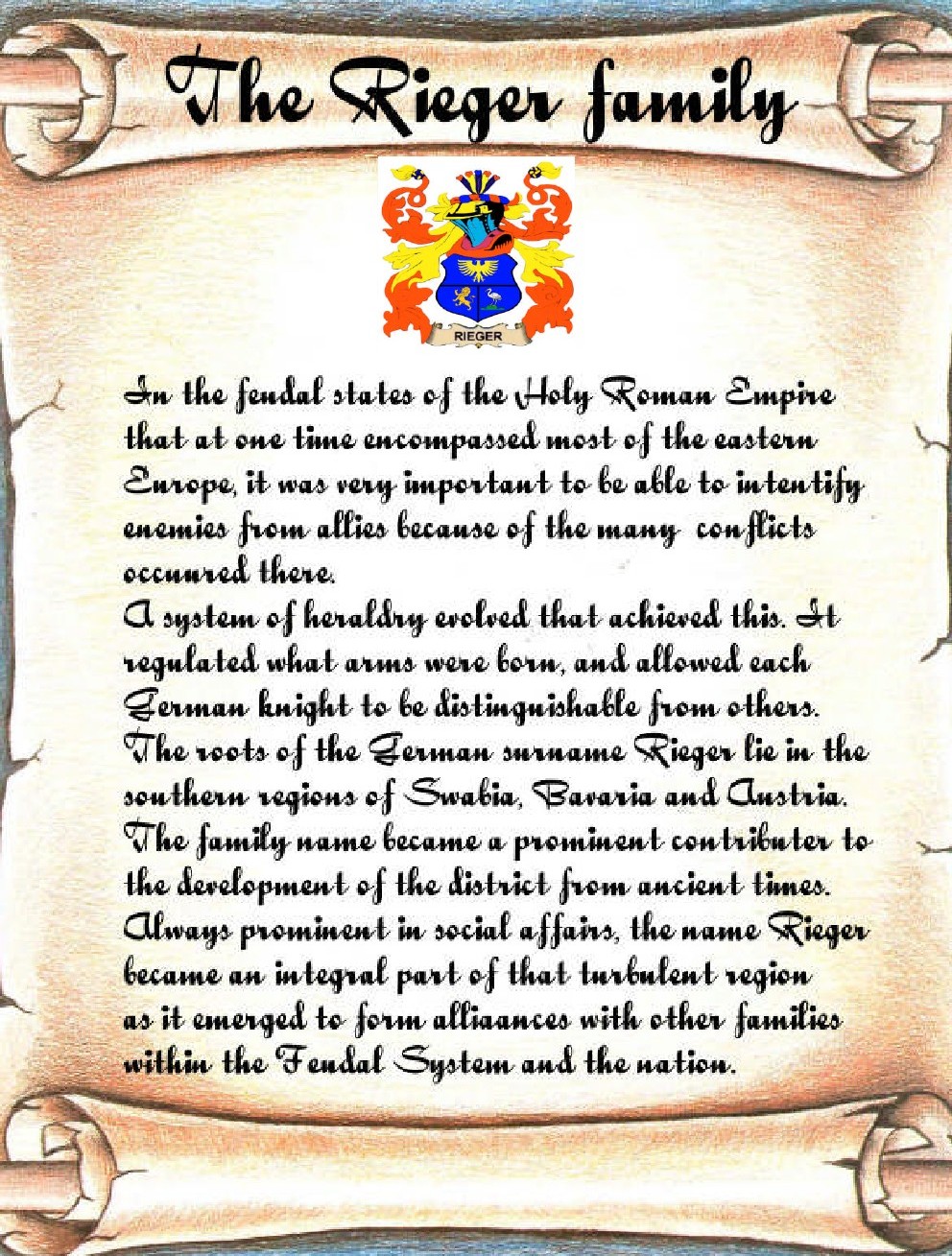 The Rieger family name and crest
The RIEGER Family Coat of Arms and History
The roots of the German surname Rieger lie in the southern regions of Swabia, Bavaria, and Austria.
First found in Bavaria, where this family name became a prominent contributor to the development of the district from ancient times.
Always prominent in social affairs, the name Rieger became an integral part of that turbulent region as it emerged to form alliances with other families within the Feudal System and the nation.
Rieger families settled in the United States in the 17th Century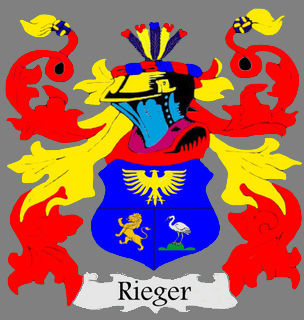 "MY NAME IS NOT MY OWN. ...
It's borrowed from my ancestors.
I must return it unstained. ..
My honor is not my Own. .
It's loaned from my decedents.
I must give it to them unbroken.
My blood isn't my Own.
It's a gift to generations yet unborn. ..
I should carry it with responsibility.... "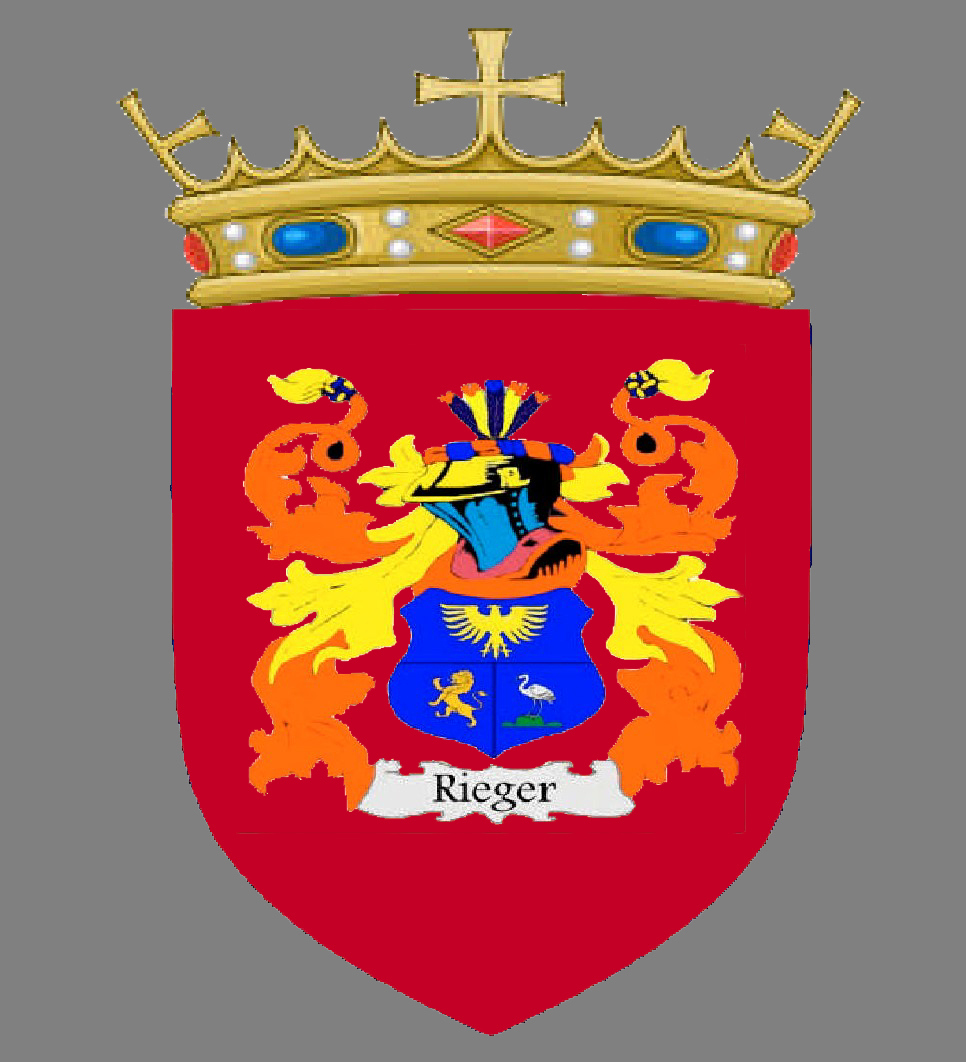 I'm honoured being appointed as Vidame Brother Superior for the Knights of Hope.
I will do my very best to live up to my responsibilties.
It gives me great pleasure to officially announce
Rt Hon. Guenter Alfred Rieger as Vidame Brother Superior for the Order of the Knights of H.O.P.E.
According to international law you're granted the right to use legally the title Lord Guenter Alfred Rieger.
Your title thus allows the Vidame and Vidamesse to be properly addressed as "Lord" and "Lady".
Lord Guenter will manage and administer the Membership of the Order with all the rights and privileges of his office."
Congratulations and God bless.
Metropolitan Archbishop,
Count David J. Gagnon, D.D., Ph.D., FWCI
In the feudal states of the Holy Roman Empire, that at one time encompassed most of eastern Europe, it was especially important to be able to identify enemies from allies because of the many conflicts that occurred there. A system of heraldry evolved that achieved this. It regulated what arms were borne, and allowed each of the German knights to be distinguishable from others. blue shield Azure (derived from the French word for "blue") represents the color of an eastern sky on a clear day. It also corresponds to the metal tin. The word, "azure" was introduced from the east during the Crusades. It signifies piety and sincerity, and is equated with autumn. In engravings it is represented by horizontal lines.
Symbolic Virtues:
Silver / White – Argent: Signifies truth, sincerity, peace, innocence and purity.
Gold – Or: Signifies wisdom, generosity, glory, constancy and faith.
Black – Sable: Signifies wisdom, grief, constancy and prudence.
Green – Vert: Signifies abundance, joy, hope and loyalty in love.
Blue – Azure: Signifies loyalty, chastity, truth, strength and faith.
Red – Gules: Signifies magnanimity, military strength, warrior and martyr.
Purple – Purpure: Signifies temperance, regal, justice, royal majesty, and sovereignty.
Maroon / Blood Red – Sanguine / Murray: Signifies Fortitude or victorious.
Orange – Tenne / Tawny: Signifies ambition.

Eagle - The eagle symbolizes a man of action, the high and important matters is concerned. A person of high intellect, ingenuity, repartee and quick comprehension.
Lion - The lion has always enjoyed a high place in the heraldry as the emblem of undying courage, and hence that of a valiant warrior.
Crane - The crane is a symbol of vigilance, justice and longevity,
Hon. Guenter Alfred Rieger
From Wikipedia.--- With an estimated size of approximately 44 million in 2016, German Americans are the largest of the anestry groups byy the US Census Bureau in its American Community Survey. The group accounts for about one third of the total ethnic German population in the world.
Two waves of German colonists in 1714 and 1717 founded a large colony in Virginia called Germanna.
Hon. Guenter Alfred Rieger
A.N.G.E.L IGO, Inter Governmental organization